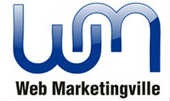 Web Marketingville
GIFT CARD 200+
You Pay X. We Give X + 50% Added Value
1- Redemption
Gift Card redeemed with any new product or service purchase or upgrade.
2- No Expiration
Purchase now. Use now. Or use later
3- 50% Increase In Value
Not a bad returnin today's market

Jerry B.
Web Marketingville is our internet marketing company choice. Results have exceeded expectations. The Video Review Beanding Commercials work! If you want to exceed your online marketing expectations, give Web Marketingville a call.